The history behind Head2Toe Physio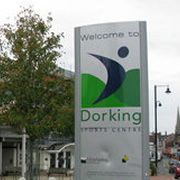 Our first clinic was started almost 20 years ago in Dorking, Surrey by Physiotherapists Sam Bowden and Meera Siva. We were encouraged to start by local orthopaedic consultants, who wanted to offer their patients a quality, local Physiotherapy service outside the big private hospitals. The clinic was a success and grew thanks to the referrals of surgeons, GP's and sports clubs. The location of our clinic within a sports centre allowed us to rehabilitate our patients to a higher level than is normally possible within a purely clinic based setting. Sports clubs and in particular coaches were keen to take advantage of this. We have built strong links with many sports clubs, coaches and personal trainers.
Encouraged by our referrers, we soon started a second clinic, this time based in Redhill, Surrey. After brief spells based in GP surgeries, we were offered an opportunity to relocate to the YMCA sports centre, with all the advantages that this setting provided. As the clinics became busier we recruited more Physiotherapists to come and work with us. In an effort to maintain the high quality of care provided, we made the decision at this time to only work with senior Physiotherapists.
We were approached by local nursing homes and rehabilitation centres and asked to provide Neurological Physiotherapy. Whilst at that time it was obviously outside our scope of practice as musculoskeletal Physiotherapists, we were able to start working with a number of well respected neurological Physiotherapists. As a result we now provide Neurological Physiotherapy in patient's homes and rehabilitation centres.
After opening further clinics in Crawley and Leatherhead, it became apparent we needed to work with more clinical experts. We welcomed Gareth Florida-James and Mel Bowden as lead therapists, who have continued to build links with local GP's, consultants and sports clubs.
In May 2015, the success of our Crawley clinic, necessitated a move to a larger, brand new location right in Crawley Town Centre. The new clinic provides more rooms, more space and most importantly, more new therapists. Crawley has become our main hub providing Physiotherapy and so much more. We have added therapists specialising in Osteopathy, Pilates, Yoga, Counselling Psychology, Hypnotherapy and Sports Massage.
We have extended our links to include local as well as large multinational companies, like Unilever and Virgin Atlantic. We are happy to work with all companies on many levels. As well as running clinics within some, we also receive referrals from occupational health departments.
Whilst we are keen to extend our network of Physiotherapy Clinics, we are always aware that any further clinics we open, must maintain our ethos of providing friendly, professional, high quality care at an affordable price.
Read Sam's blog posts , sign up to our newsletter or like us on facebook to keep up to date on more exciting additions to the clinic in the months to come!!