Meet Grace Archer and hear more about her story….
….from elite teenage swimmer and journey through her sporting injuries, university and how she is now at her happiest as a physio at Head2Toe.
Growing up in Reigate Grace started competing nationally in swimming aged only 13!
Travelling, training and competing up to 5 hours a day, Grace came across a few injuries along the way.  She explains that Sam Bowden (Director & Lead Clinician, Head2Toe) was there for her, both to treat her – putting her back together physically and mentally, whilst playing the role of unofficial psychiatrist as well!
Unknown to Grace at the time, this was her first taster of physio.  By 15, Grace was being treated on and off by Sam and other physios. She remembers spending a few days' work experience shadowing Sam to experience a range of patients coming into the clinic.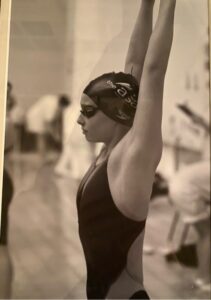 At 18, Grace successfully gained a scholarship to Loughborough University.  She began to train with the Elite Swimming Squad, alongside studying for a Sports and Exercise Science degree.  Training hard and working long hours, Grace managed to juggle all the demands of a busy degree programme. Each day she'd dash between training sessions, competitions and university life!  Grace describes this time in her life where swimming and training controlled her existence – she was living to swim!  This was the time when Grace's interest in physio grew.  As a result she chose modules which reflected her interests in biomechanics, sports medicine and exercise physiology.
And then injury struck!
Midway through her 3 year degree course she began struggling with excruciating pain.  Grace underwent surgery on her shoulder to repair the long-standing injury.   Following extensive physio and commitment to a progressive exercise programme, she made a full recovery.  She returned to competing nationally again.  However, it was during the last year of studying that Grace decided to change her priorities and goals.  Her  focus changed to her professional career.
At 21 Grace retired from swimming competitively and started her Masters in Physiotherapy at Oxford Brookes University.  Then followed several years of NHS experience and work in a London private practice, after which Grace returned to Surrey to work at Head2Toe in the very clinic where she was treated as a child!
Why does Grace love working at Head2Toe Physio
Grace loves meeting and treating the range of patients she sees at both Dorking and Leatherhead Head2Toe Clinics.  'They all have different issues, with different goals whether its training for an ultramarathon 100k race or wanting to get on and off the floor to play with their grandchildren.  They are all lovely, self-motivated and keen to listen and engage with improving their quality of movement'.
'I enjoy treating a diverse range of patients but my passion is for treating spinal and sporting injuries having previously worked with numerous national sports teams such as the Women's Welsh Lacrosse Team and Holcombe Women's Hockey Club.  I especially enjoy my job when I can use therapeutic sports massage and acupuncture to accelerate patient's recovery from pain and see them regain their movement'.
'I love being back in the Surrey hills where I grew up. I have a great work-life balance where I'm in control of my hours to meet the needs of my patients in modern, light, bright and airy clinic rooms.  I'm working with an outstanding physio team with reliable admin support, where no two days are ever the same. I consider myself very fortunate to be loving my job, loving my patients and feel very happy to come to work each day!'.
And what do Grace's patients think about her?
Grace was professional and super thorough in her examination to make sure she was giving the best advice. Felt in good hands and am looking forward to getting stronger with her care!  E Tovee
Grace is a brilliant physio, very attentive and understands my needs. She incorporates my lifestyle into treatment such as work, hobbies etc. She is a very knowledgeable physio and a credit to Head2Toe, Dorking.  A J St John
I have been going to Head2Toe in Leatherhead for quite a bit now with a shoulder pain. Grace is lovely, very professional, knows what she is doing. My shoulder is almost back to full 100%. Highly recommended.  E Gillett
If you or anyone you know would like to have a physiotherapy assessment with Grace at Dorking or Leatherhead, get in touch via our website www.head2toephysio.co.uk where you can book online, send us a message or give us a call.
At Head2Toe Physio we are always looking for fantastic physios to join us. If you are a qualified physio, a dynamic team player and keen to join our great team of experience physios, either full or part time, then please get in touch – we'd love to hear from you.